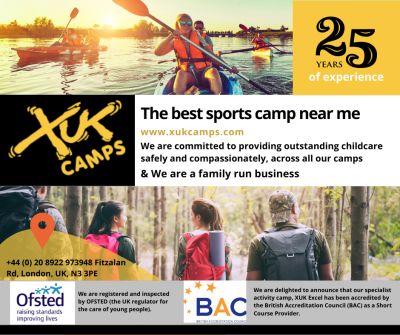 Discovery awaits your child at camp
In the mind of a child, summer holidays are anticipated with great excitement. And when the summer finally does arrive, their minds switch to the thought of camps! Today there are summer camps, kids camp, sports camp, recreational camp, summer school and many more besides. There truly exists a camp to bring out the best in every child. Indeed, today you can send a three year old to a kids camp, with the full confidence that all their needs will be met and their safety assured.
Perhaps your child has not had a camp experience before, and you are concerned that they may feel isolated. At XUK camps, we are fully aware that each child is an individual, with distinctive traits and behaviours. With that knowledge, we can help to develop socially, emotional and cognitively, in a nurturing manner and specific to who they are. Kids camp gives children the opportunity to emerge from their shell, to fully embrace and connect with their environment. To challenge what they might see at face value and to look deeper and further…
Currently, due to the COVID-19 virus pandemic, inevitably there are some uncertainties surrounding kids camp this summer. We are currently planning and preparing for our camps to be open, and will be informed by government policy in the upcoming weeks. Even though the situation is very fluid, we are readying ourselves for the summer season and anticipating that we shall need to be flexible. As we get closer to the date of camp, more information will be forthcoming and just as soon as we can make a definitive decision, we shall announce it. Until then our team for the most part is in place, we are still enrolling for the summer and we very much hope to run all our listed courses. Please check back for updates, as soon as new information becomes available.
The camp experience doesn't end when your child returns home. Memories are forged and friendships made that will remain with them. XUK camps offer a wide range of activities, all hosted in a safe and friendly environment. We are Ofsted registered and the safeguarding of your children is our paramount concern.
Benefits of a kids camp
Development of life Skills - Kids camp is an experience outside of the home and school environment, where kids learn to push their comfort zone and challenge their current skill levels. They learn to manage fear, failure and conflict..
Promoting independence - Camp gives children a chance to listen for their inner voice, to understand its motivation and to develop the thought processes of good decision making. Learning to trust their judgements, instead of just following the instruction of a parent, teacher or guardian.
Teamwork focus - Kids camp facilitates an environment where kids learn together and naturally develop teamwork skills. This helps children discover that they each are an integral part of the camp and working with others is a key to success, and the feeling of being valued.
Building friendships - one of the most memorable camp experiences during their time with us, is the bonding that occurs with their campmates during their time at camp. Away from the pressures and conformity of school and the distractions of traditional home entertainment, children naturally engage more with each other.
Teaching resilience - Kids camp provides an opportunity to face challenges head on and overcome them. It teaches self confidence, independence, determination and patience. The value of these qualities all have significant influence in the personal development of your child, carrying through to adulthood.
Alongside summer camp is sports camp. Sports camps specifically focus on advancing children in sports disciplines. They are not solely directed at physical progress, but are also concerned with developing mental and social skills. Daily physical activity is essential for kids, and sports camp ensures that your child will be active throughout their summer holiday. If you live in London and have ever thought; where can I find a fantastic sports camp near me? Then look no further, contact XUK camps. With our help your child will learn the entry level skills in their preferred discipline of sport, and have a great time learning and developing whilst doing so!